To enjoy your stay in Paris, it is useful to have some tips to avoid scams and some other unpleasant situations.
Airport Transferts
From Roissy Charles De Gaulle
If you have a lot of luggage and there are at least two of you, a taxi will probably be the preferred option. But be careful, above all, accept to ride only in an official taxi. You will find them in front of the taxi stands at the exit gates, if someone offers to drive arguing you will skip the queue, there is a good chance that it is not an official taxi. And it will charge you a lot of more of the fixed normal price.

There is a set price for a transfer from Parisian airport to the city.
From Roissy Charles de Gaulle airport to Paris it will be 50 to 55€  depending on which bank of the river you are going.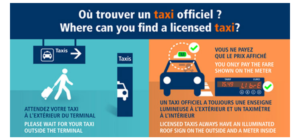 if you do not want to queue, at the airport you can always opt for a booking but it will cost you more because tot the set price will be added a reservation fee and awaiting fees.
To make a reservation you can use the most common company in Paris G7 (by calling or using their application).
You can also order via a Uber or Kapteen kind driver: but depending on the offer the price could be higher than Parisian Taxiis furthermore they can't wait for you at the taxi stand so to find a pick up place could be challenging and last but not least the private driver can't use the Bus lane and driving in Paris at peak hours could be a real nightmare at peak hour.

RoissyBus : Roissy CDG -> Opéra : 13,70€ around 60 min
Bus 351 (RATP) Roissy CDG -> Nation: 6€ around 70 min
Bus 350 (RATP) Roissy CDG-> Porte de la Chapelle 6€ around 80 minutes
RER B : RER B is a train for transit in Paris it will stops at many bit stations in Paris like Gare du Nord, Châtelet les Halles, St Michel etc… Ticket price from Airport to Paris : 11,40€. It will take around 35 min to Gare du Nord. Be careful at the rush hours the train are very packed, especially if you are taking the one which stops everywhere, it is strongly advised to prefer the direct one which are stopping directly to Gare du Nord. There are trains every 10 to 15 minutes
For all above rmentioned route you can use the carte Navigo. The main drawback of the public tansport could be that if you have to make connections with métro you will have to go up to a lot of stairs, to use corridors etc…
Le Bus direct (before it was named Car Air France)
Le Bus Direct line 2 Roissy CDG -> Porte Maillot/ Champs E lysées/ Tour Eiffel :etimate time between 46 to 75 minutes  18€ A/R:31€. The bus service operates between 05:00 and 23:00
Le Bus Direct ligne line 3 : shuttle bus  between Roissy CDG and Orly airport 22€ you have a bus every 25 to 40 minutes.
Le Bus Direct line 4 Roissy CDG -> Gare Montparnasse -> Gare de Lyon 18€  you have a bus every 30 minutes
Hotels and travel agency can propoe you transfert but usually they are more expensive that all the mentioned options.
From Orly Airport to Paris
Regarding Taxis the same tips are available in Orly airport. The set price will be 30 to 35€ depending on which bank you are going to.
Orlyval + RER B: Orlyval is a metro shuttle that allows you to go to Anthony station where you can take the RERB. A tiket will cost 12,30€. If you are going to Paris from Orly you will have to take the RER B heading to Mitry Claye or Airport Roissy Charles de Gaulle. If you are going to Orly airport you will have to take the RER B heading to St Rémy les Chevreuse.
Bus GoCParis + RER C: Bus GoCParis will bring you to Point de Rungis where you can take the RER C to Paris, choose the RER C heading to Pontoise or Montigny Beauchamp. Ticket 6,35€ you will need 25 minutes drive.
Tram 7 + Métro 7: The line 7 terminus is connected with the Metro line 7 Villejuif Louis Aragon Ticket price: 1 metro ticket + 1,90€
Orlybus Ratp Bus: Aéroport Orly -> Denfert Rochereau Ticket: 9,50€ duration: 30 min every: 10-15 min
Le Bus direct (before it was named Car Air France)
Le Bus direct line 1: Aéroport Orly -> Gare Montparnasse ->Trrocadero -> Etoile/ Champs Élysées ticket: 12€  duration: 30-60 min
Le Bus direct line 4:Aéroport Orly -> Aéroport Roissy Ticket: 22€ duration 1H10-1H20