For this second lockdown I feel a bit less depressed despite the same constraints to stay home and the same deprivation of freedom.
n this article I will give you some advice and tips to make Lockdown 2.0 in Paris and surrounding areas a little less painful
1-The Rules of Lockdown 2.0
Reasons for anxiety are still valid even if Lockdown 2.0 is somehow different with the injunction: "Stay safe, stay at home" in full-force
The big differences are the opening of schools and the possibility for those who cannot work from home to go to the workplace.
So unlike in the spring the streets are not deserted and animals have not taken over the urban areas.
In Paris, there has not been the mass exodus to other regions, as in the Spring, since schools are open and parents cannot remove them from the education system.
For me the best news is that parks and gardens remain open, so if you have a park less than one km from your home, you will be allowed to go there within an hour and of course with your completed "attestation".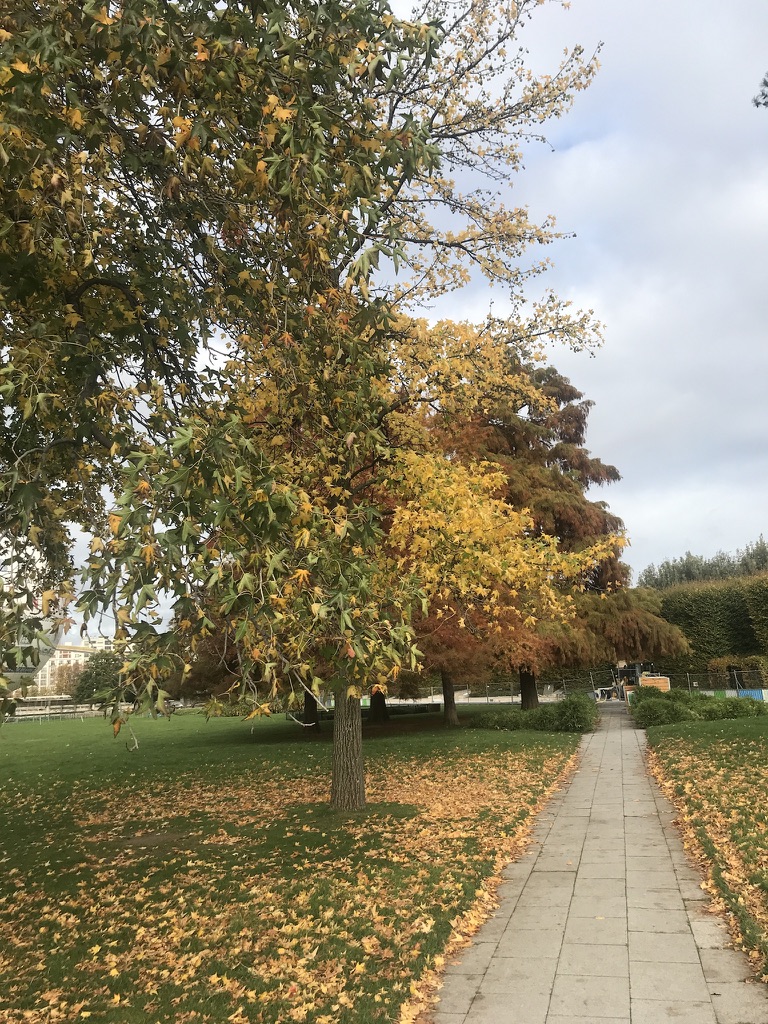 Shopping is of course possible but only for items considered "essential".
This notion of "essential" has caused a controversy and the intervention of elected officials for the safeguard of small businesses.
The other big difference with Confinement 1.0 is that this time the markets are accessible, what a pleasure to keep this very French habit of shopping for food sometimes directly from the producers.
The new confinement is planned until December 1st but could be extended. The Government's objective is to reduce the number of cases detected to 5000 per day instead of the 40 to 50 000 at the moment.
2- Surival Kit for the lockdown 2.0
First priority : Good food !!
As I often say here, eating well is one of the priorities for the French, and Parisians are very attached to their restaurants, so if they can't afford to have dinner with friends in their favorite restaurants, they may be able to pick up a menu and enjoy it at home.
Since the first lockdown, restaurants and retailers have learned lessons and have shown a certain resilience by offering and intensifying their takeaway sales service, the famous click and collect, but also delivery, which had already been on the rise for some time. Deliveries are often Paris intramuros and it is necessary to count a supplement sometimes up to 15€.
And if you have some scruples about using classic delivery platforms that are not always virtuous in terms of social policy, I advise you to take a look at this new alternative and fair ordering platform: RESTO.PARIS.
So on the internet there are a lot of best of restaurants with take-away menus: there is something for every taste from the most gastronomic to the streetfood.
Guide MIchelin delivery options
Vogue selection fo favorite take away restaurants
Catherine Down selection : restaurants and small business
It is not only restaurants but also food small business who have started to deliver. To allow all Parisians who are not lucky enough to live less than a kilometre away from their favourite pastry shops, their favourite "chocolatiers" etc… to be able to shop as usual.
Time Out selection to find the best Parisian pastry chefs or bakers who offer delivery services.
Why not try the now famous Cinnamon buns from Flying Circus which offers free delivery by bike.
The maison Aleph also offers free delivery during the confinement, I'm a fan of their hot chocolate but also their little cakes with oriental flavors.
The Paris City Hall has set up a map where all the shops offering take away sales or delivery are tagged.
Priority number 2: to have fun and to find entertainment options
It's difficult to have the list valid for everyone, because we all have different desires and ways of entertaining ourselves.
Maybe, like me, you don't want all your evenings to invariably end up in front of a Netflix series or a movie.
As far as I'm concerned, I need variety and to develop my creativity or stimulate my curiosity.
So if I have to watch TV, maybe I prefer a documentary and for that there is no better place than ARTE TV. I am a fan there is such diversity in the programming and it is available in 6 languages.
For boosting my creativity, I thought of buying, the day before the confinement, a kit to learn as a beginner Aquarelle.
I confirm that a manual activity is very stimulating and allows you to concentrate and not to have your mind wander too much. For me it is the artistic fiber but it can be cooking, DIY, gardening etc…
You could try painting on ceramics, Biscuit, a ceramic art workshop proposes in this period of lockdwon, kits to decorate yourself at home the objects that you like: cup, a mug, a bowl a plate and then the workshop takes care of the cooking !
Maybe the occasion to prepare a Christmas gift or two????
Reading is also an excellent means of escape, I will not go back on the polemic about the closing of bookstores which is quite incomprehensible from my point of view.
Just like shopkeepers and restaurant owners, many booksellers have taken up 'click and collect'.
So if you haven't had the time to stock up on books that you don't necessarily have reading ideas why not take a look at the Paris library site which has a growing e-book offer and also why not try audio books.
I tried the experience of audio books during the first "confinement" because I admit that at that time I had difficulty finding the necessary concentration to immerse myself in reading and the audio guide was a very good experience for me, because at the same time as listening you can do the dishes, ironing or any other repetitive activity that does not require too much attention.
And the great news is that during the confinement you can register online to the digital library.
I'm a fan of podcasts and there too the choice is very wide.
I suggest you read my previous article in which I propose some of my favorite podcasts about Paris and French culture and history.
My selection was mainly Anglo-Saxon but I also listen to French podcasts.
My favorite French podcast is Vlan de Gregory Pouy. In this podcast "he transmits his vision of the evolution of the world to envisage the future differently", thanks to the variety and quality of his guests and especially his very intelligent, carefull and has always a relevant way of interviewing them.
If you are interested in philosophy, I recommend a program from France Culture: les Chemins de la philosophie, I really like the host Adèle Van Reeth.
"She gives a voice to those who reconcile philosophy and current affairs. "
A different way of looking at major current issues with a philosophical focus. This podcast is very accessible, no need to be a philosophical nutcase.
And if you french is not yet good enough to listen to those Podcasst I can just hightly recommendin the reading of my blog article giving all the tips to improve your French.
Visits to museums
Just like in the 1.0 edition of lockdown, museums are opening their digital doors wide to give you some fresh air and access to their collections.
I subscribe to the Louvre's Newsletter, and I must admit that I was more than seduced by the latest edition, which offers a multitude of options largely via the museum's youtube channel.
Les Plaisirs du Louvre: a series of live concerts from the museum's auditorium.
The next concert Tuesday, November 10 at 12:30 pm
Relive the court arias and ballets of the Grand Siècle with the Correspondances ensemble directed by Sébastien Daucé.
Les enquêtes du Louvre: 
Les Enquêtes du Louvre, the podcast that mixes art and crime in the heart of the world's largest museum!
At the Louvre, in the shadow of the Mona Lisa and the Venus de Milo, terrible crimes are committed: murders, robberies, kidnappings, poisonings… Serial crimes, subtle or violent, but always executed with genius, unfold before our eyes.
Le Louvre pour les petits: a series of stories in video format for the youngest children, which starts from the museum's works and tells a tale (5min).
And finally, a series of 5 lectures to learn all about the painting of architecture during the Renaissance in Italy (90 min per lecture).
The museums of Paris also offer you digital access to their collections but also a visit dedicated to children with the Museophere platform but also art history classes and all kinds of conferences.
One more tip that is aslo avaible in all time not only this crasy one. You can receive every Saturday morning a cultural program for the weekend mainly around Paris but also sometimes in the region and then also news on the world of art and culture: subscribe to the newsletter of Arts in the city
I am well aware that eating good food and having fun are not the only priorities at this time of the year, but it is a good start. Exercise and physical activity is also very important, taking care of one's own, avoiding isolation, keeping a minimum of contact with friends, family etc…
I would really appreciate it if you could share your tips, your favorites for a movie, series, reading or any other digital activity.
So don't hesitate to comment !!!
Additionnal ressources :
A website to play boardgame online with your friends, family members or anybody online :Board Game arena
The fnac has made available 500 ebooks for free downloading: Free ebooks from Fnac
Centre Pompidou's podcasts released once a month :  An artwork, a podcast